Welcome to Class Three...
Class Three loved our afternoon which contained a range of activities relating to water. We completed a range of maths, science and team building activities. We also enjoyed exploration after completing activities. Good work!
Following Instructions - Class Three have completed a range of tasks whereby we need to follow instructions. Class Three have made their own jam sandwiches and linking with our summer topic Harry Potter created themed cupcakes. Good work.
Class Three would like to welcome our new member. I hope you enjoy Class Three as much as we do!
Healthy Eating - Class Three have been working hard on creating a healthy lifestyle. We have been looking at a range of food packaging and identifying whether they are healthy or unhealthy. We also tasted a range of fruit and vegetables to see if we liked or disliked them. We worked hard on this task and at the end completed a sensory jelly experience that had a range of the fruits hidden inside. All children really enjoyed this activity, fantastic work!
Holi Festival - Class Three have been learning about the Holi Festival. We created a piece of art using bright colours. We used a new technique. Well done!
Science Week in Class Three - We have been focusing on 'flying high' experiments. We created our own paper aeroplanes and helicopters and tested what affects them during flying. We changed our environment and adapted planes to change variables. Good scientific knowledge Class Three.
Capacity - Class Three have been working hard on reading scales on containers and exploring how different size and shaped containers hold more or less water. We worked hard on pouring water into containers up to a certain amount - fantastic work Class Three.
Class Three would like to welcome our new pupil! I hope you enjoy Class Three as much as us!
Science- Class Three have started a new topic this term, plants! We went on a walk around the community to look for a range of trees and plants. We loved exploring. Our pupils also used their ICT skills and took their own photographs. Well done.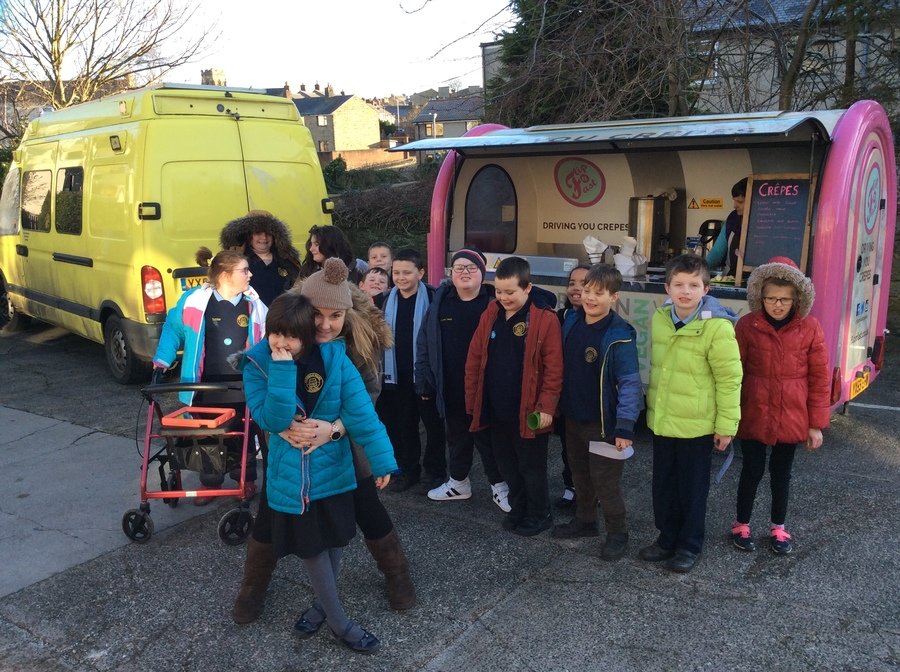 French Day 2019 - Class Three ran and delivered a fantastic day full of activities for the whole school. Above are some of the photos from the different classes. We created French Flags, created the Eiffel Tower using spaghetti and marshmallows, made our own collage following the work of Henri Matisse and to top it all off a pink crepe van came to Barndale to deliver us crepes. Class Three worked hard on making the cafe run smoothly and all children really enjoyed themselves.
Spring Term 2019 - Our Class Topic is France! Class Three have been learning some French treats and in particular croissants and pain au chocolat. We have been cooking and tasting them.