Roots and Shoots
We have been invited to take part in the Roots and Shoots Programme run by Alnwick Garden. We have our own vegetable plot at the garden where we are growing lots of healthy vegetables and herbs. We are also learning about protecting the environment and maintaining a healthy lifestyle.
Vocational Studies
Work Related Learning - Workplace Visits
During National Careers Week George completed a job study about the role of a Tour Guide as he would like to work in the Dr. Who Experience Centre when he is older. To find out more about the job he wrote to Alnwick Castle and asked if he could 'shadow' one of their guides. He was very lucky to be invited to spend the morning at the Castle assisting one of their senior guides - Les Gair (our old Headteacher!) . He had a great time and the experience has helped him to decide if the job would suit him and if he has the skills required to be a good Tour Guide.
| | | |
| --- | --- | --- |
| | | |
| | | |
Molly decided to focus upon the role of a shop assistant in her favourite shop - Wilkinson. She wrote to our local branch and arranged for Class 5 to carry out a workplace visit. Lee , the Manager , showed us around and we found out what tasks a shop assistant working in Wilkinson may have to do as part of their daily routine. Lee answered all of our questions and told us about the skills and qualities we would need to work in retail. We really enjoyed our visit - especially as we were able to sample some Pic-n-Mix!
Thank-you to Lee and all of the staff at Wilkinson , Alnwick.
| | | |
| --- | --- | --- |
| | | |
| | | |
| | | |
World Book Day 2019
We chose The Snowman by Raymond Briggs as our theme book for World Book Day .
We made our own animation based on the story.
Art
We have been studying the work of local artist Stella Vine as part of our AQA Unit Award work.
Stella was born in Alnwick and often uses images of the town in her paintings. She is also famous for painting bright , colourful portraits of celebrities. We decided to use elements of Stella Vine's style to paint our own celebrity portraits. We each chose our favourite well-known face to paint .
We also visited The Bailiffgate museum to see an exhibition of Stella Vine's paintings.
We really enjoyed the exhibition and had fun choosing our favourite painting.
Sing and Sign
Molly , Matthew and George had a great day out in Durham at the regional Sing and Sign event.
Alnwick Library Listening Pod
We were invited to Alnwick Library to try out the mobile Listening Pod - a small, enclosed sound-proofed space where you can select a story to read and listen to . We also met Jackie , a librarian , who kindly shared an interactive story about a disastrous haircut with us. It was very funny .
French Day
We had un bon moment joining in with our whole school French Day.
We built (or tried to build ...... ) an Eiffel Tower using spaghetti , marshmallows and drinking straws.
We tried french cheeses and garlic bread for our snack. The response was mixed for the cheese but everyone loved the garlic bread.
We learnt the french phrases for different weather conditions and tried to remember all of the new words to play a game of bingo (The winner had to shout 'Maison')
We looked at the work of the French artist Matisse and made our own pictures using the same techniques.
But best of all we each had a traditional french crepe with a topping of our choice . DELICIEUX !
PSHE -Public Services
We have been finding our about different Public Services as part of our AQA Unit Award work.
We visited Alnwick Fire Station to meet the Firefighters and to learn all about their role and the services they offer.
Chinese New Year
We celebrated the Chinese New Year with a special feast .
Our challenge was to try to use chopsticks to eat it all.
Christmas Activities
We had great fun writing our own Christmas version of the Baby Shark song . We even made a video to showcase our talents. One listen and you will be singing it all day.
Vocational Studies
Careers Fair
We visited a Careers Fair organised by the CEIG Team for Northumberland. We met staff from local colleges , day centres and work placements.
We also met Paralympian Stephen Miller who talked to us about his career in website design and about his experiences as an athlete.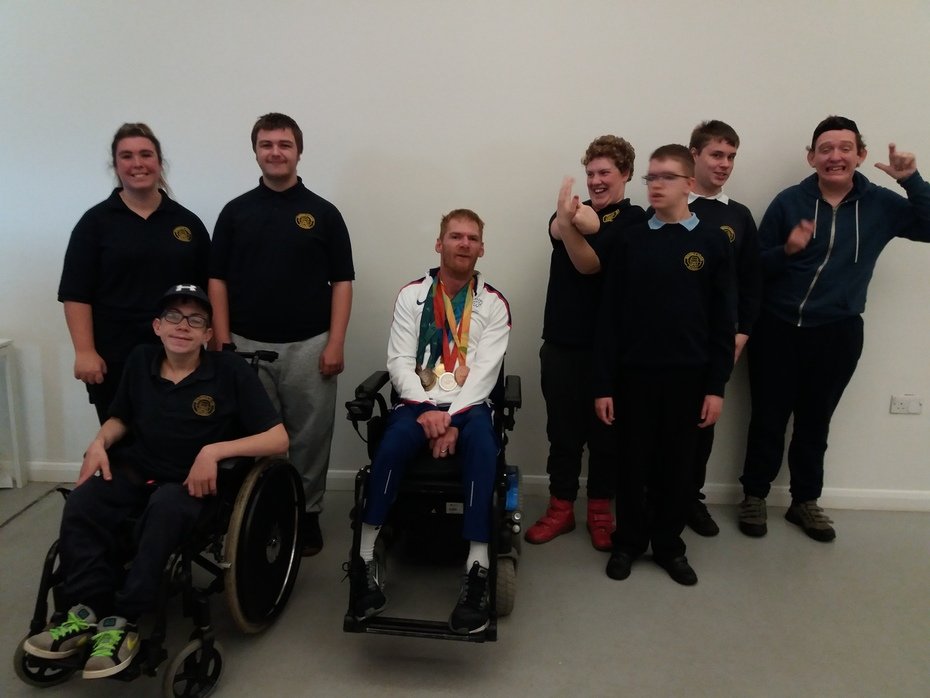 Vocational Studies
Career Exploration
This term we are exploring careers in horticulture. We have looked at the skills and qualities needed to be successful in different occupations .
Each week we try different practical tasks linked to horticulture to help us to decide if we have these skills and qualities and to help us to make choices about what we might like to do in the future.
Independent Living Skills
Meal Planning and Preparation
Every Monday we plan a lunch menu , choose suitable recipes , shop for ingredients , prepare our chosen dishes and then enjoy the finished product.
This half term we are concentrating on quick and easy main courses, including convenience foods and ready meals ,followed by home cooked puddings. Yum.