Sports
Class 1 on their Balance Bikes
Over a period of time they have built their confidence up and are able to lift their feet off the ground when moving across the school yard.
NORTHUMBERLAND SCHOOL PARA GAMES
BYLTH SPORTS CENTRE 2019
Odin, Liam, Nathan, Ava & Finlay enjoyed their day competing in the Boccia and Athletics competitions at the School Para Games.
George, Jack, Erin, Nikola, Ryan & Bobbie enjoyed competing in the Boccia & Archery competitions at the School Para Games.
Jack, Nathan, Ryan, Liam, Ava, Finlay, Bobbie & Nikola represented Barndale in the North East Regional Finals for Table Top Cricket at the Riverside Cricket Club, Durham.
Congratulations to both Senior and Junior teams on winning the Boccia competition against the Grove School at Swan Centre, Berwick on 2nd April 2019.
Barndale School Team Boccia Competition 2018.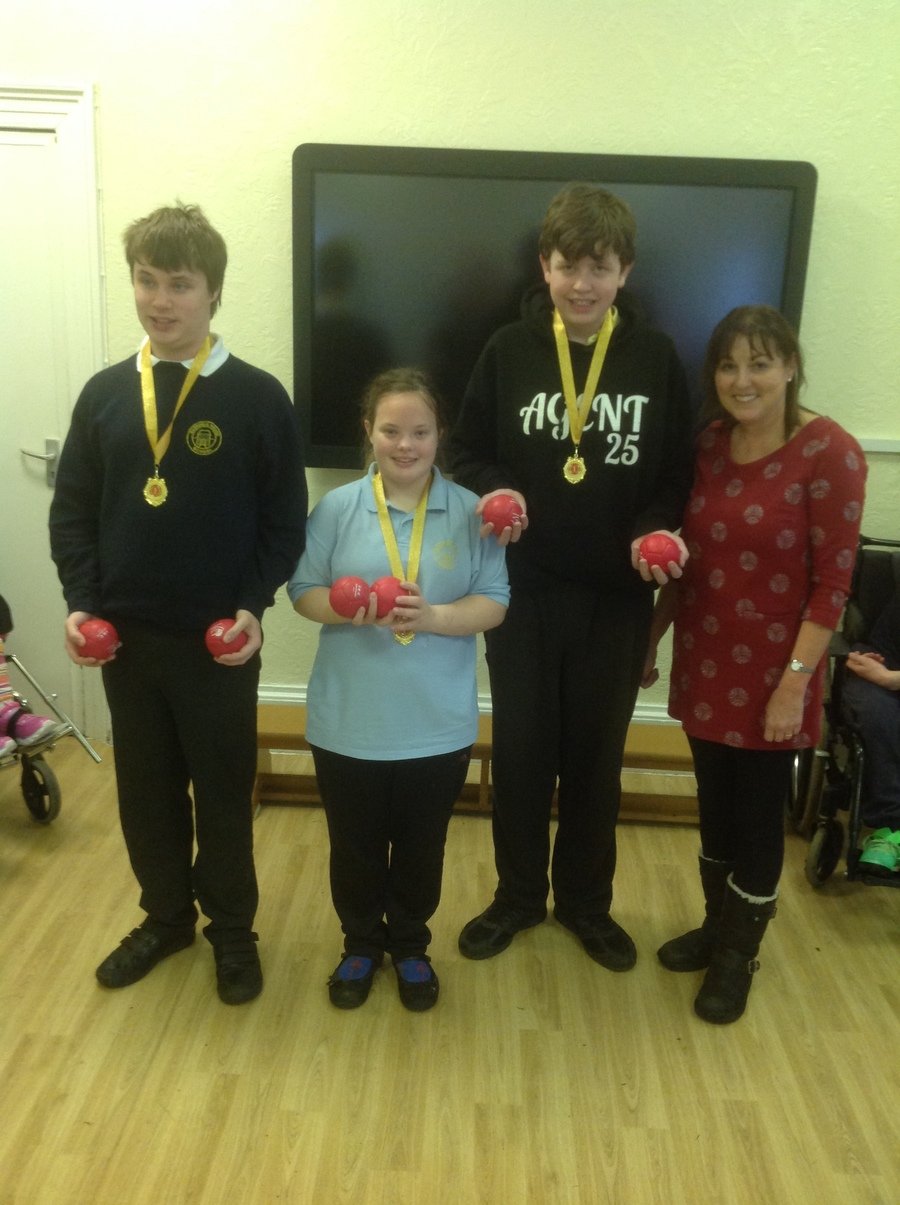 Huge congratulations to Jack, Nikola & Ryan on winning gold medals in the Boccia team competition.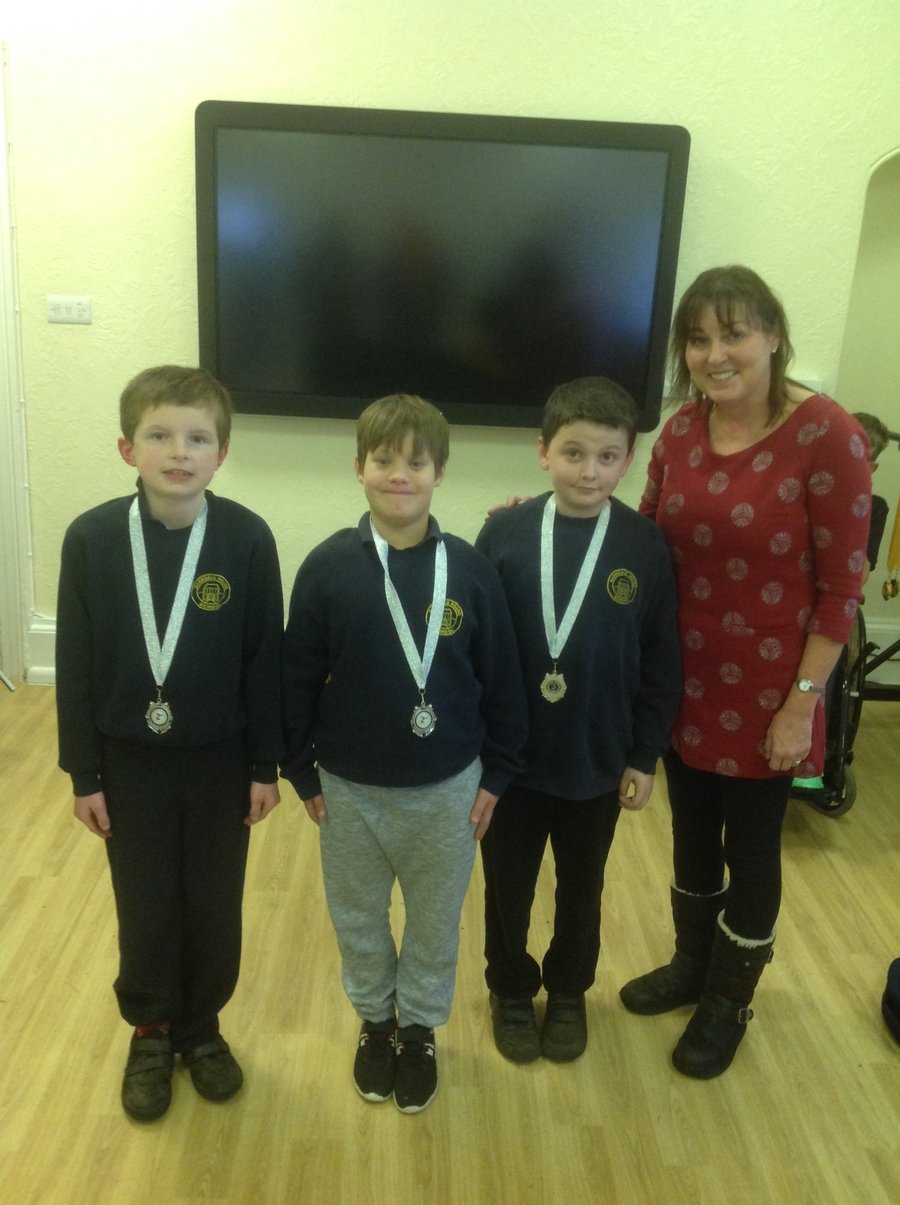 Congratulations to Liam, Marcel & Finlay on winning Silver medals in the Boccia team competition.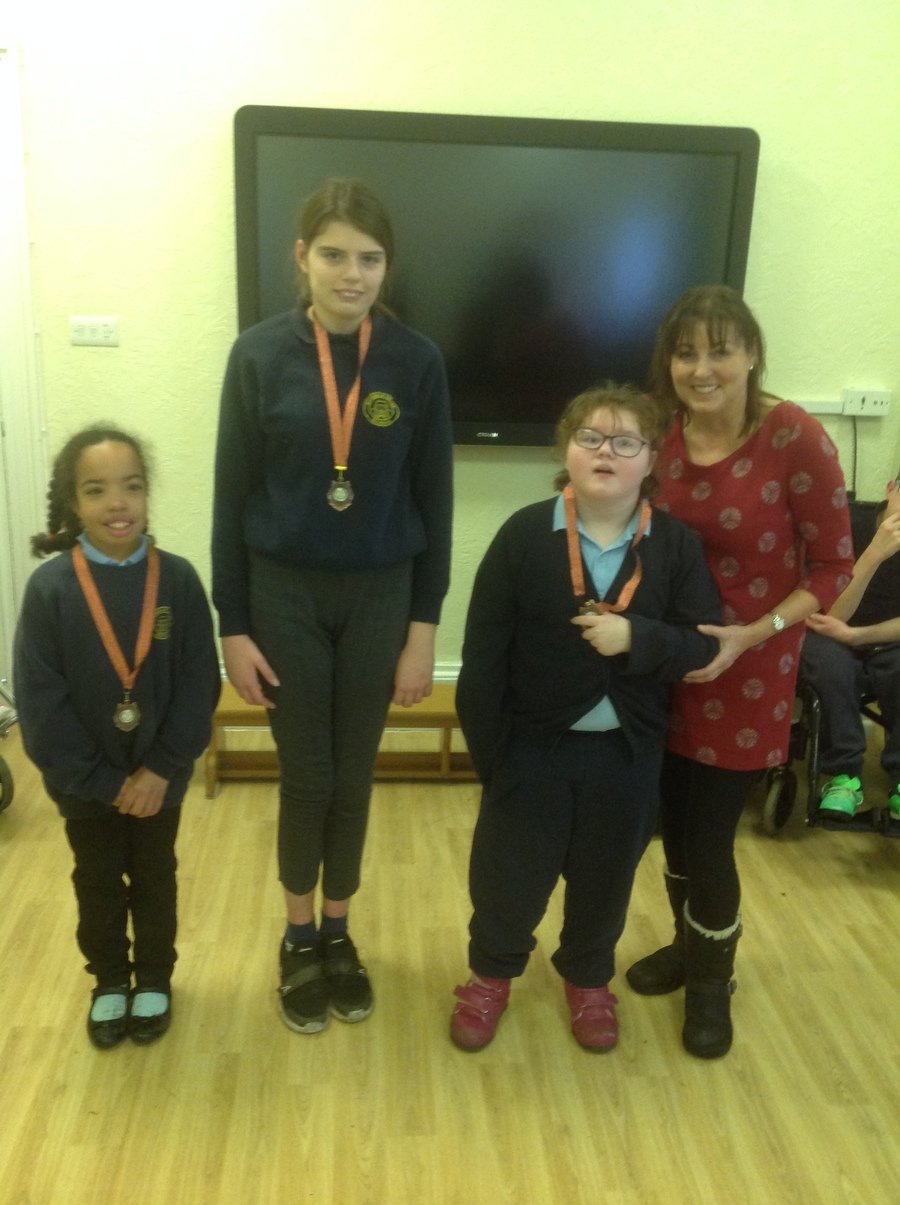 Congratulations to Ava, Bobbie & Summer on winning Bronze medals in the Boccia team competition.
WEEKLY 1 MILE WALK
The aim of the weekly mile challenge is to improve the physical, social, emotional, mental health & wellbeing of our pupils.
Every pupil has been issued with a Marathon Challenge card. Every time a pupil completes a walk they receive a sticker for their card. When they have completed 26 miles they receive a certificate in our achiever's assembly.
SPORTS DAY 2018!
A perfect day... Boccia Competition in the morning, Sports Day in the afternoon. Smiles all around :D
Barndale School Curling Competition 2018
Congratulations to our bronze, silver and gold medal winners.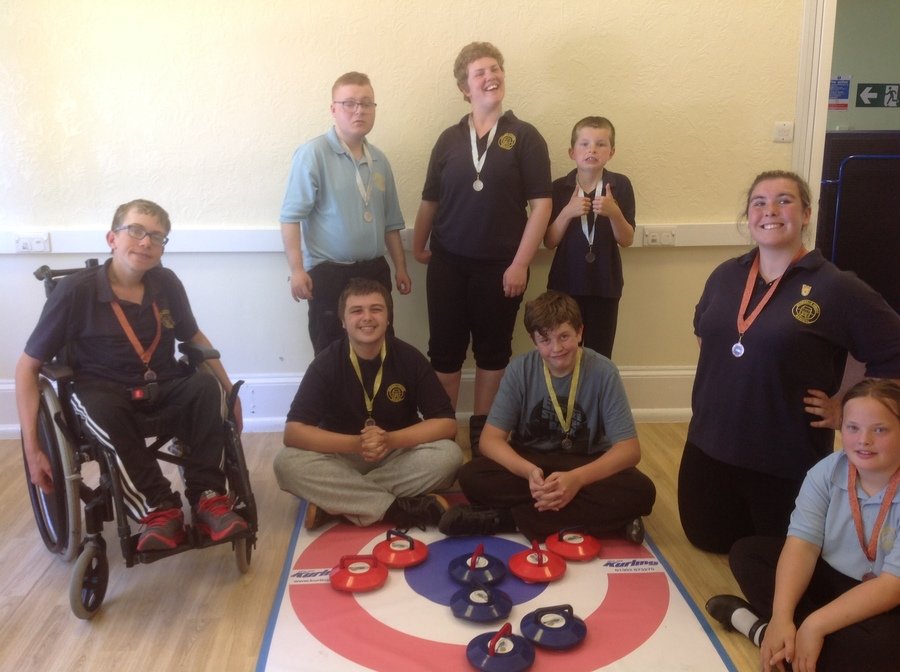 Northumberland Para Games
Thursday 10th May 2018
Blyth Sports Centre
Congratulations to Paul, Liam, Nathan, Marcel, Ava & Finlay on winning
SILVER medals for Boccia
and
BRONZE for Archery.
Northumberland winners 2018
Table Top Cricket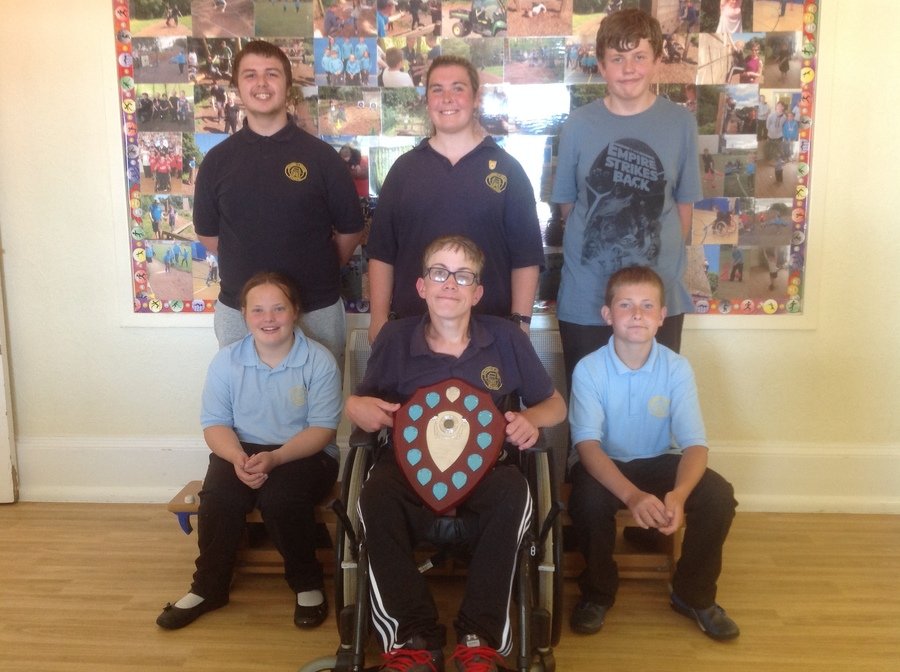 LORD TAVERNERS
TABLE CRICKET
Regional Finals 2018
Emirates Riverside
Chester-le Street
Well done Ellen, Levi, Ryan, Nikola, George and Jack
for reaching the Regional Finals.
TYNE & WEAR LORD TAVERNERS
BOCCIA COMPETITION
Friday 19th January
Gateshead Leisure Centre
Congratulations to Ellen, Ryan & Bobbie on winning GOLD medals.
AND
Liam, Odin, Ava & Nathan on winning SILVER medals.
DANCE AND DRAMA
This half term Vickie Yule, a dance coach, has been working with pupils from Classes 1 and 2.
The theme was Fantasy and Adventure.
Following a discussion, the pupils chose to demonstrate movements inspired by sea creatures, butterflies, snakes and jungle animals. Then finished off with a display of a tree sculpture.
LORD TAVERNERS
TABLE CRICKET
COMPETITION
Barndale and The Grove competed in a Table Top Cricket Competition resulting in the Grove winning and the Barndale first team being runners up.
CHANCE TO SHINE THROUGH CRICKET
Berwick Leisure Centre
Thursday April 6th 2017
Tom Vickers a community cricket coach has been working with a group of pupils to give them the opportunity to play and learn through cricket.
Tom organised a fun cricket activity day with pupils from Barndale and The Grove.
Autumn Term 2016
Dance
The topic for our Dance was Space
Glendale Area Sports 2016
SILVER MEDALLISTS
Boccia Competition
Northumberland Para Games
Tuesday 26th April 2016.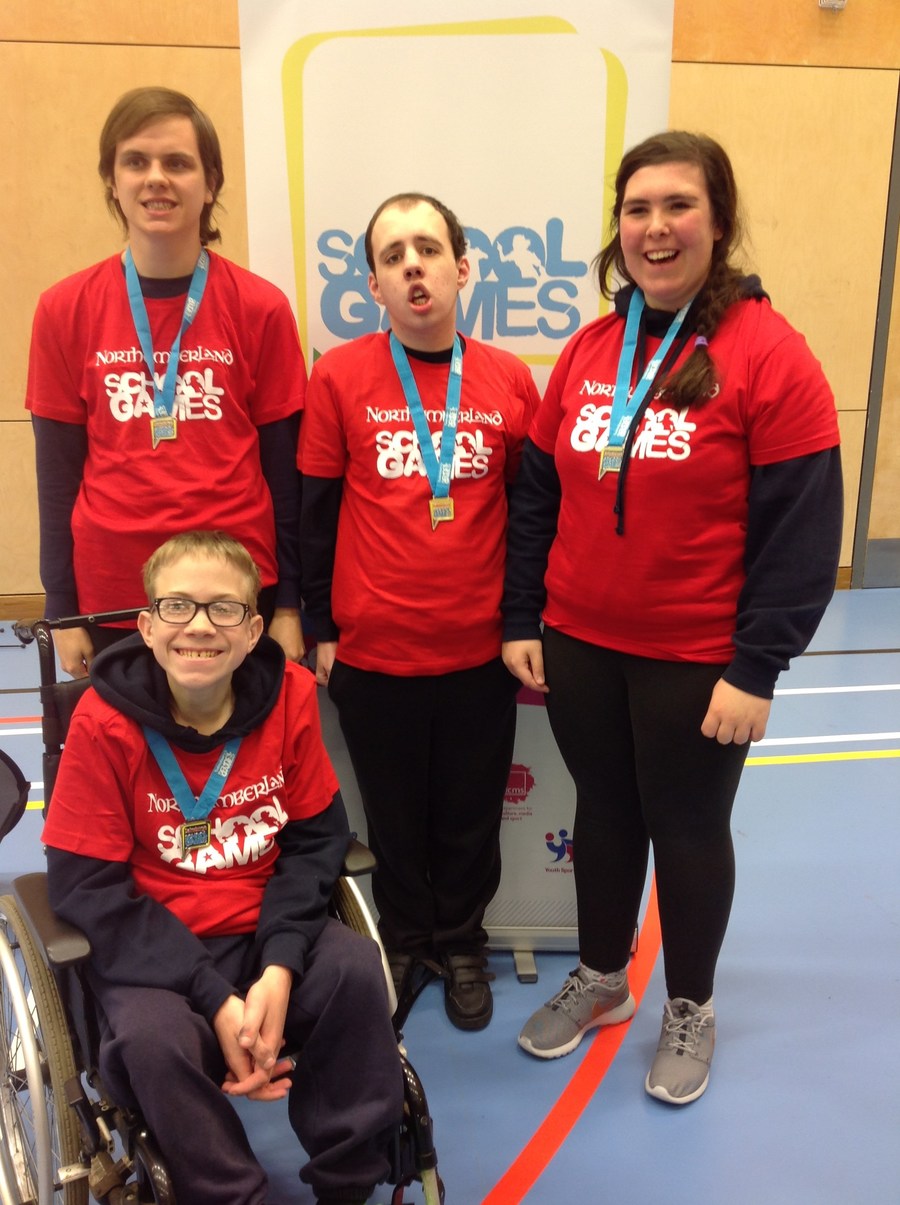 Excellent participation at the
Northumberland Para Games
Tuesday 26th April 2016.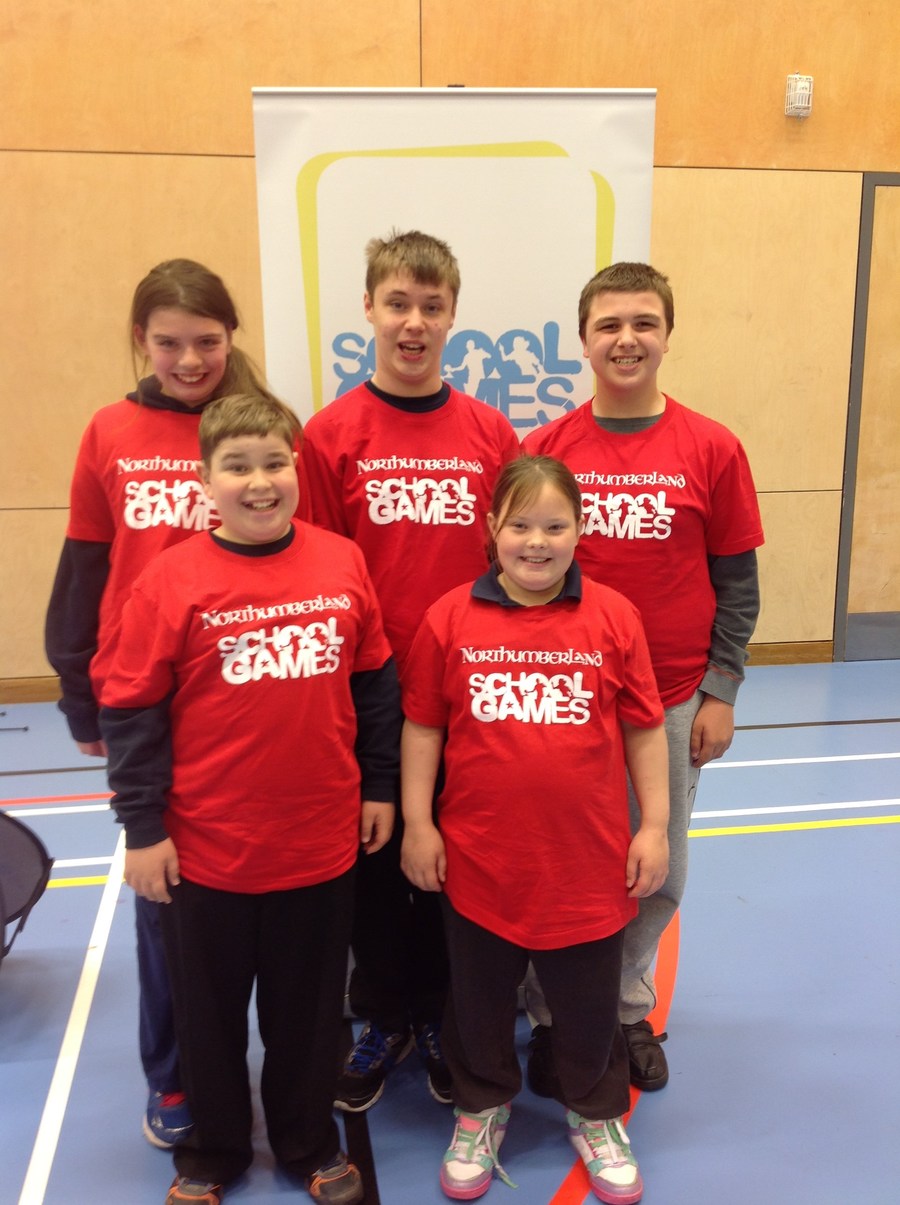 SWIMMING GALA 2016
Coquet were the winners with 34 points
Tweed were 2nd with 23 points
Aln were 3rd with 17 points
Class 1
Gymnastics
In gymnastics this Half Term we have been learning to use our body to create shapes, we have been working in pairs and groups and had great fun creating these shapes.
Our Super Sports Stars at Sports Day 2015
Northumberland School Para Games
Concordia Leisure Centre, Cramlington
Wednesday 24th June 2015
Well done Girls!!!

Gina was the gold medallist for Archery

Ellen was the silver medallist for Archery
Well done Connor, Gina & Curtis winning Gold in the Boccia competition.
PGA Senior Championship Major Golf Event
Thursday 11th June 2015
A group of pupils travelled to Close House to watch senior professional golfers in action, they enjoyed having specialised coaching. They all shared a new experience and had a great day out!
GLENDALE AREA SPORTS
8th June 2015
The children participated in nine different events
NETBALL, SPEEDBOUNCE, TARGET THROW, THROW & CATCH, HOWLER THROW, DISTANCE RUN, POTATO RACE, STANDING LONG JUMP & PENALTY SHOOT FOOTBALL.
SMILE THROUGH SPORT
Launch Event Tuesday 12th May 2015
The pupils participated in Boccia, Athletics, and Multi Sport Activities
delivered by Rachel Millar & Jenni Wade
Inclusive Sport Project Officers.
Spring Term 2015
Gymnastics
Class 1
Spring Term 2015
Gymnastics
Class 2 and 3
QUEEN'S BATON RELAY, ALNWICK CASTLE
We had fun and games at Alnwick Castle when the Queen's Baton Relay arrived in Alnwick!
Northumberland School Games
Our pupils represented North Northumberland Para Games in Boccia and Sitting Volleyball at Concordia Leisure Centre, Cramlington on Wednesday 25th June 2014.
WELL DONE BARNDALE TEAM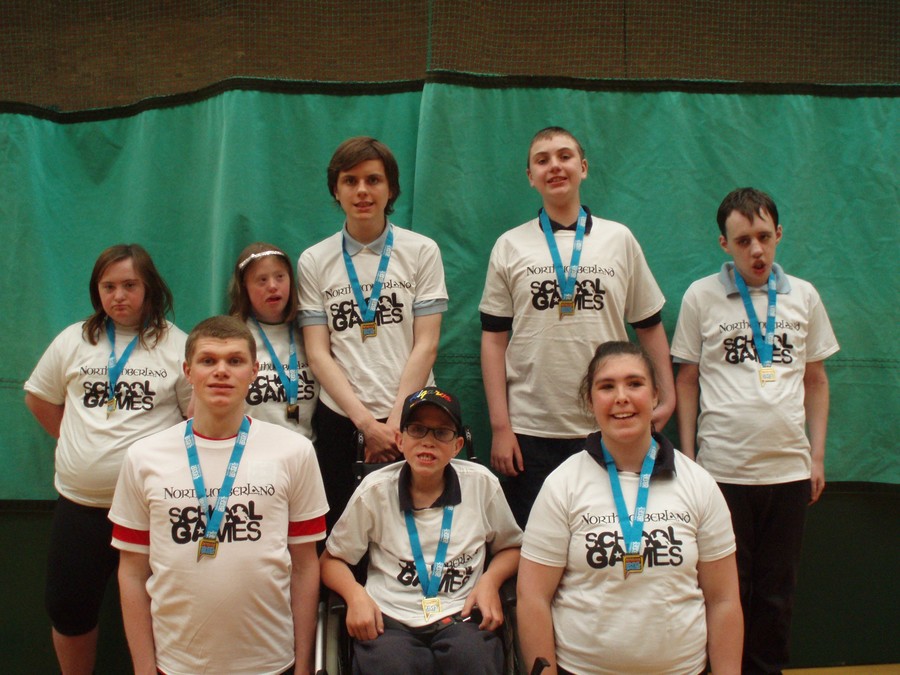 WON GOLD in the Boccia Competition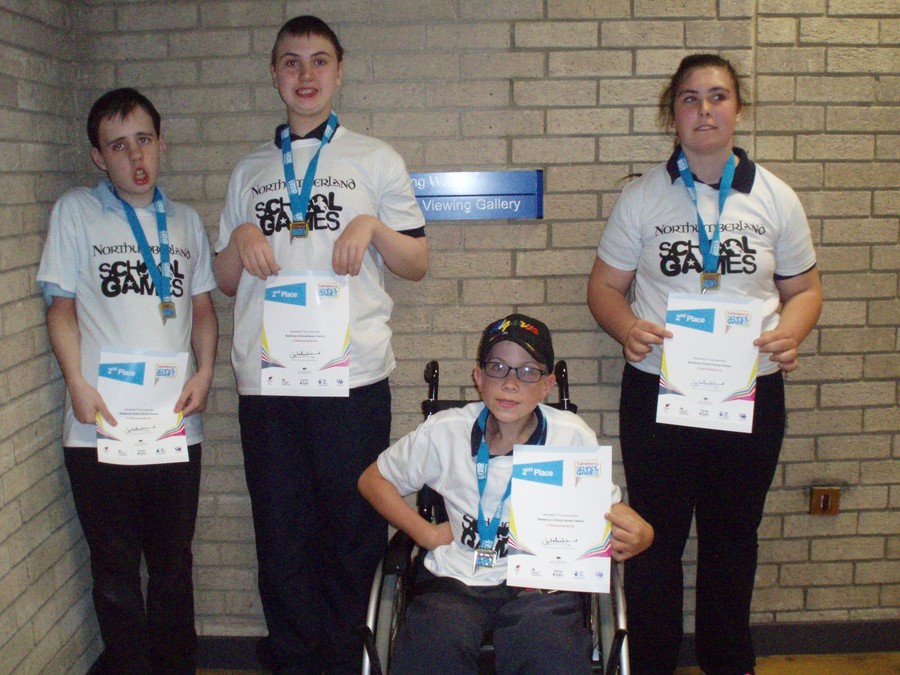 Well Done Jonny, Curtis, Levi & Ellen for winning SILVER in the Sitting Volleyball.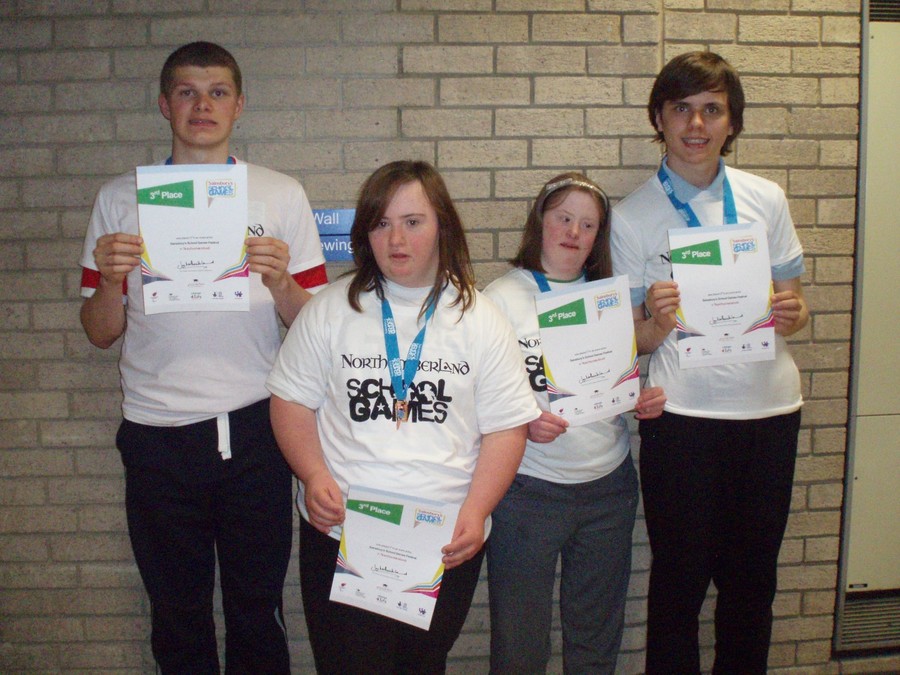 Well done Louis, Gina, Olivia & Connor for winning BRONZE in the sitting volleyball.
Sponsored Triathlon
June 2014
Fantastic effort from all the pupils at Barndale during the triathlon.
The swim team swam an amazing 7 miles.
The walking and wheels teams completed 5 miles in the Sports Hall at Willowburn.
The money raised will go towards purchasing gym mats and benches for the new school hall.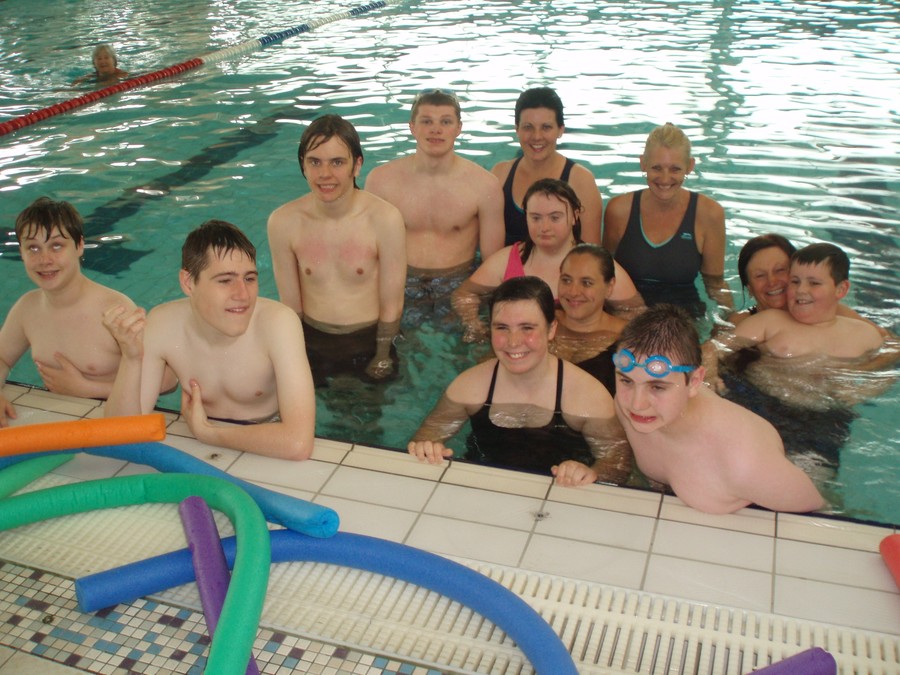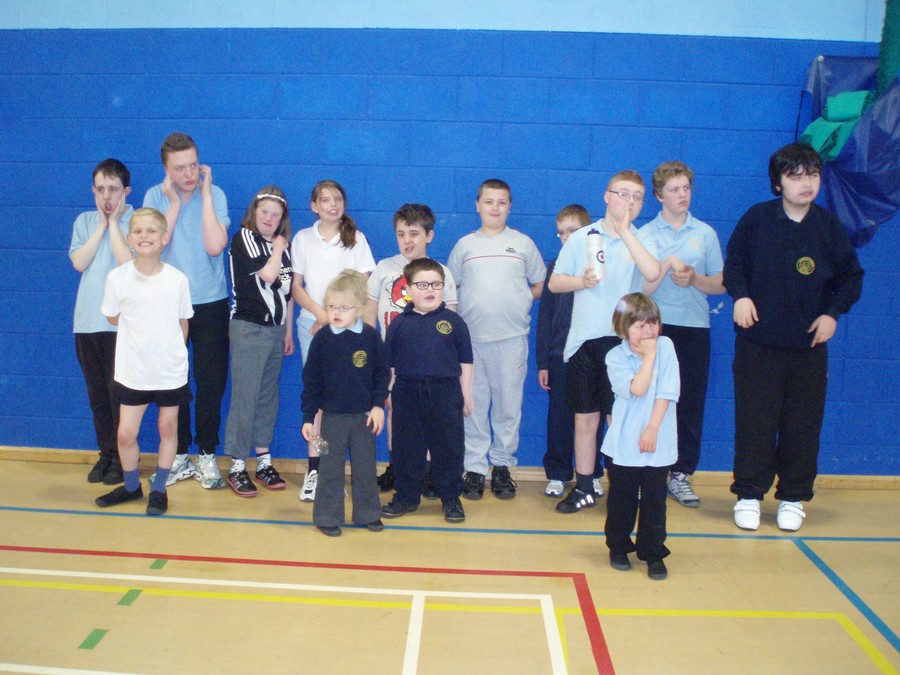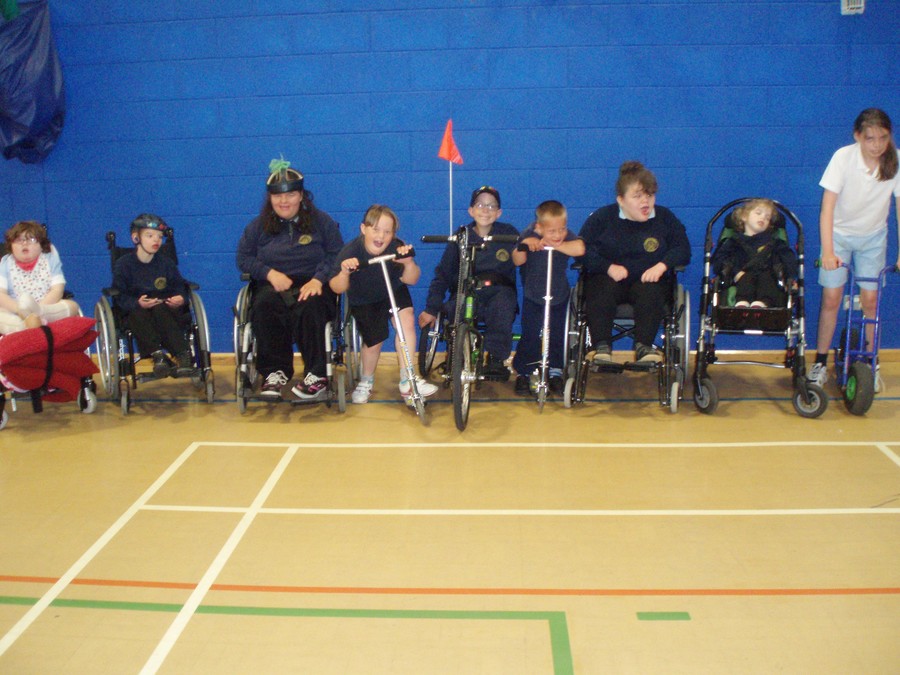 Luis Perales an Outdoor Sports Development Officer worked with the children in the Autumn Term developing their map reading skills to navigate round a course of markers and pictures.
During this Summer Term Luis has introduced technology slowly through "Geocaching" which is treasure hunting with a Global Positioning System (GPS), this is like orienteering but what they find is a hidden box with a note book and tokens!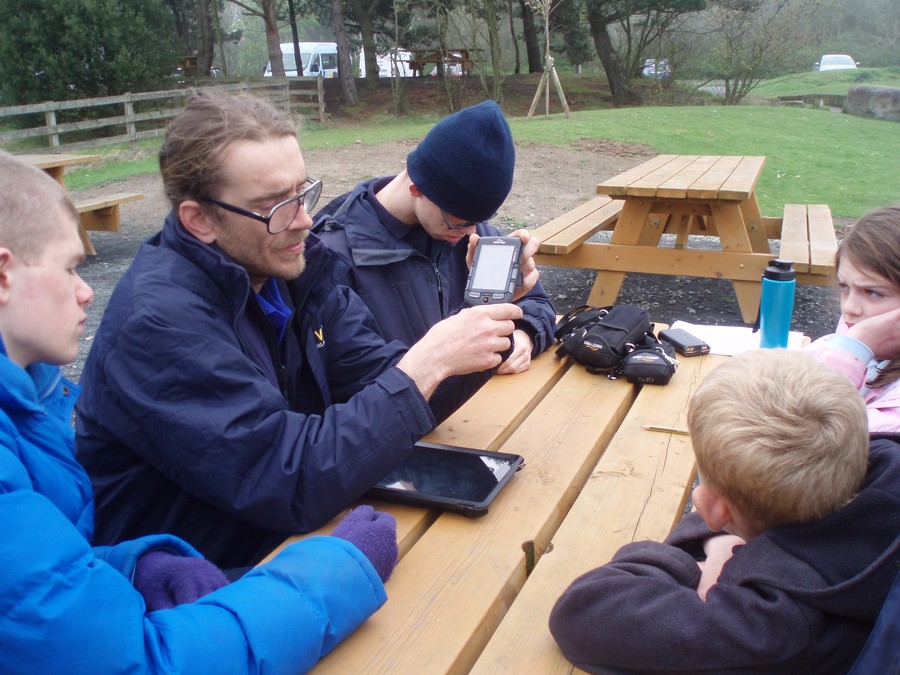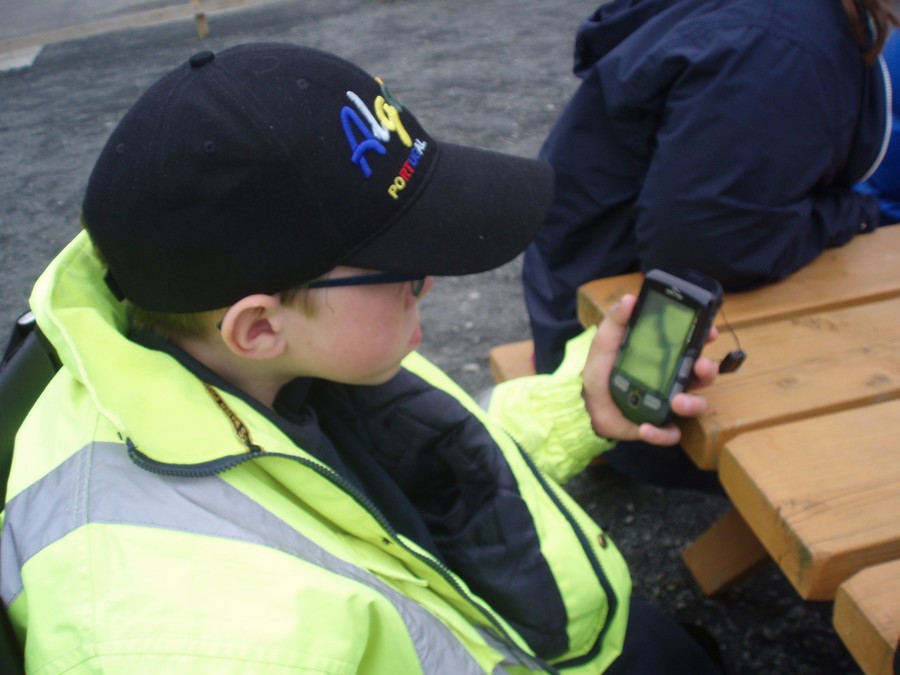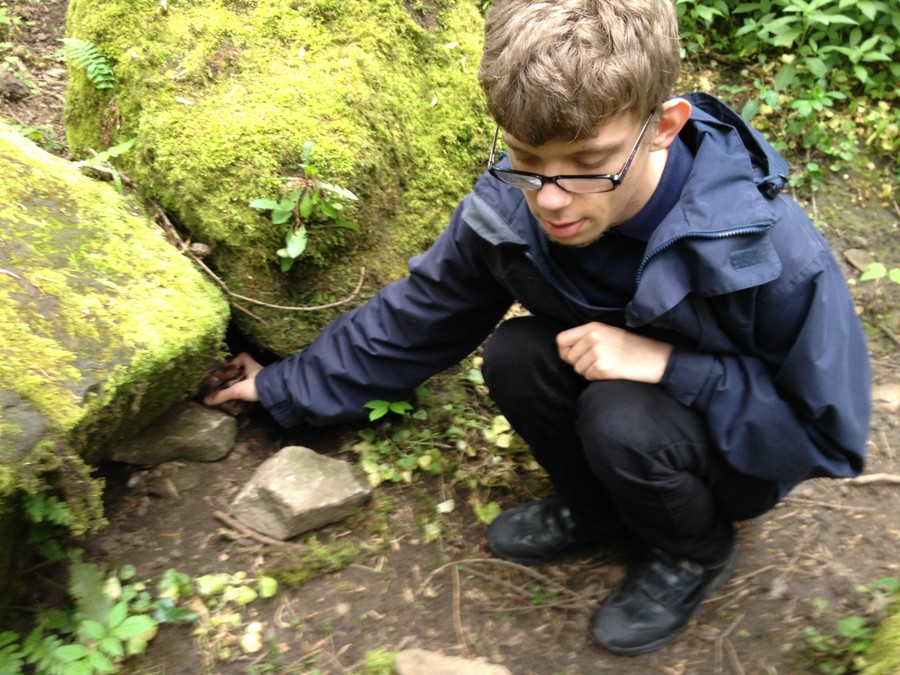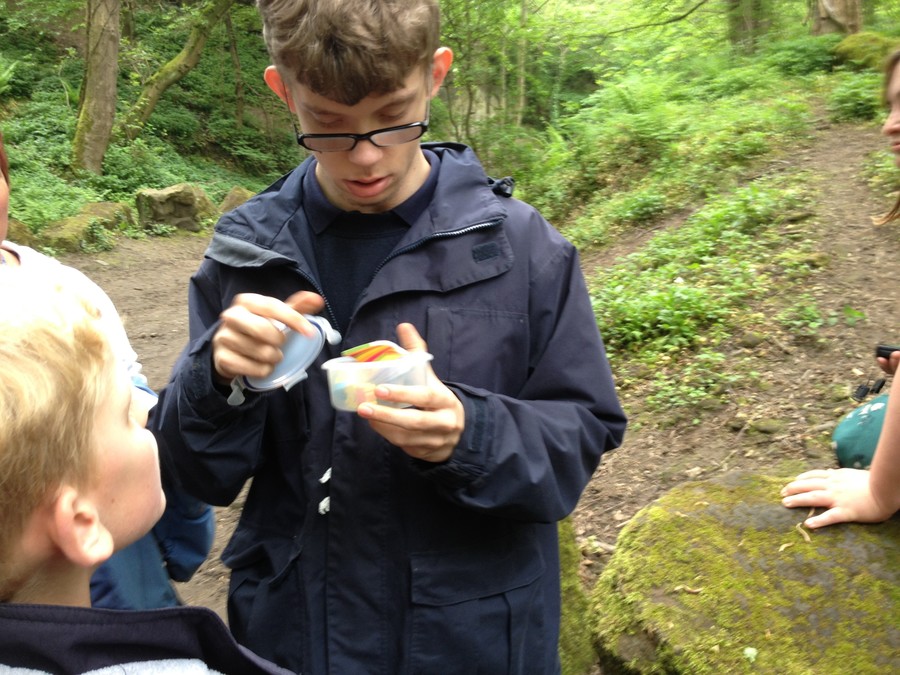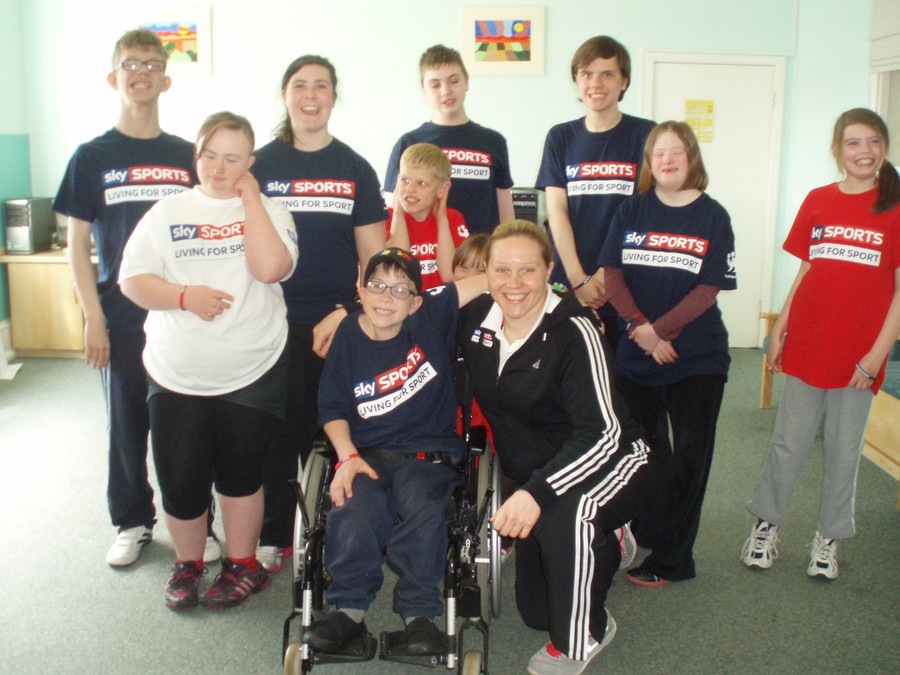 INSPIRATION ...... England Women's rugby player KATY STORIE with some of the pupils from Barndale.
Katy Storie, who plays for England Woman's rugby union side, came to Barndale School to talk to pupils about the benefits of sport. She brought along some of England shirts and medals, and the pupils loved seeing them.
Katy's visit was arranged as part of the school's partnership with the Youth Sport Trust and Living for Sport Project, as she is an ambassador for sponsors Sky Sports.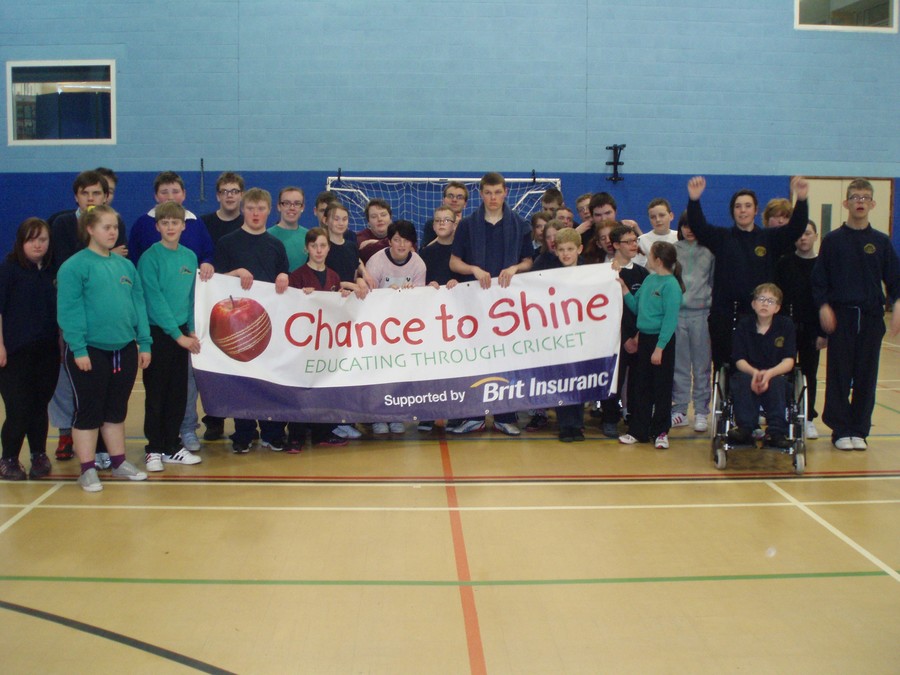 Pupils from The Grove, Collingwood and Barndale enjoyed participating in a Cricket Festival at Willowburn Sports Centre on the 27th March 2014.